GDRFA Dubai takes part in 48th Geneva International Exhibition of Inventions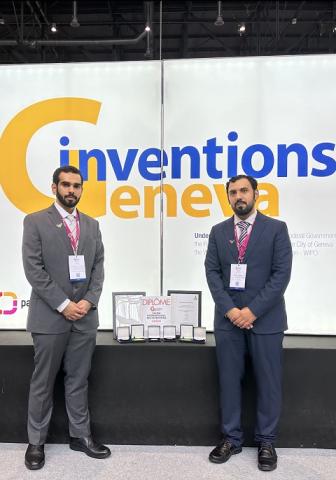 The General Directorate of Residency and Foreigners Affairs (GDRFA) in Dubai has been recognized for its distinguished participation at the 48th Geneva International Exhibition of Inventions, receiving a silver medal for its innovative "Smart Security Lab".
The honour was granted following a presentation by First Lieutenant Khalaf Rashid Al Ghaith, Head of the Innovation Department, and Undersecretary Amer Saeed Al Jabri, Head of the Creators Care Branch, where they showcased security projects aimed at reducing international risks and detecting violators and counterfeiters.
In addition to the silver medal, GDRFA Dubai obtained two certificates and four gold medals for its "Smart Security Lab" and "Proactive Index System for Monitoring Violators" inventions, awarded by King Abdulaziz University and the Scientific Foundation for Inventions in Portugal.
The exhibition jury commended the GDRFA's innovative projects and active participation among over 825 exhibitors from government, private, and academic sectors that submitted more than 1,000 inventions.
HE Lieutenant General Mohammed Ahmed Al Marri, Director General of GDRFA Dubai, emphasized the directorate's commitment to innovation, noting that GDRFA has reinforced its position in the International Innovation Index through its wide-ranging contributions to innovation, spanning inventions, intellectual property rights, and research and development initiatives.